Funding Terrorist By saudia-Arabia-iran needs world Attention.
Ian Black in His Article wrote in The Guardian a worth Reading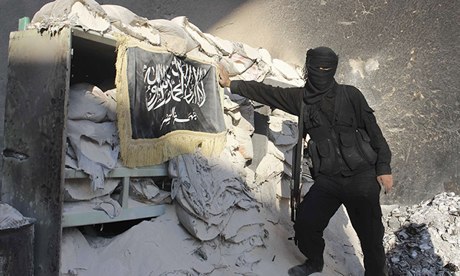 In return, diplomats say, Riyadh is encouraging the JAI to accept the authority of the US and western-backed Supreme Military Council, led by Salim Idriss, and the Syrian Opposition Coalition.
"There are two wars in Syria," said Mustafa Alani, an analyst for the Saudi-backed Gulf Research Centre. "One against the Syrian regime and one against al-Qaida. Saudi Arabia is fighting both."
Saudi Arabia has long called publicly for arming the anti-Assad rebels and has bridled at US caution. It has been playing a more assertive role since September's US-Russian agreement on chemical weapons - which it saw as sparing the Syrian leader from US-led air strikes and granting him a degree of international rehabilitation.
The JAI is led by Zahran Alloush, a Salafi and formerly head of Liwa al-Islam, one of the most effective rebel fighting forces in the Damascus area. Alloush recently held talks with Bandar along with Saudi businessmen who are financing individual rebel brigades under the JAI's banner. Other discreet coordinating meetings in Turkey have involved the Qatari foreign minister, Khaled al-Attiyeh, and the US envoy to Syria, Robert Ford.
The appearance of an "Army of Muhammad" – with its equally obvious Islamic resonance – appears to be part of the same or related effort proposed by Syrian Sunni clerics to unite disparate rebel groups into a 100,000-strong force by March 2015.
It is too early, however, to see any impact of the Saudi move on the ground. "Militarily it's not significant," said one senior western official.
"I don't see it producing any dramatic change yet. It's a political step. These new rebel formations seem to be relabelling themselves and creating new leadership structures. It's part of a quite parochial political game – and above all a competition for resources."
But the Saudis are making an energetic case for their strategy – and playing on western anxieties. "The Saudis are saying that if you don't join the fight against Assad you will end up with a much bigger jihadi problem," said Emile Hokayem of the International Institute for Strategic Studies. "They are being a lot more proactive. That means taking the rebellion a lot more seriously and trying to develop as many proxies and allies as possible."
Saudi assertiveness has grown along with unhappiness over US policy towards Syria and Iran, the kingdom's regional rival. Prince Turki al-Faisal, the former Saudi intelligence chief, described Obama's approach to Syria as "lamentable".
Alani, echoing official Saudi views, warned of the risk from an emboldened al-Qaida unless more moderate forces prevailed in Syria. "Al-Qaida is getting stronger," he said. "It is undermining the Syrian revolution and giving the US an argument for not supporting it. It will backfire against Saudi Arabia and the Gulf sooner or later – like what happened in Afghanistan, Pakistan and Iraq."
Other experts argue that the kingdom is taking risks by being so proactive, relying on funding and weapons for influence, concentrating on military pressure on Assad without developing a clear political strategy and focusing on strengthening groups with an overtly Sunni character.
The effort also faces problems of capacity, coordination and delivery. "The Saudis and Qataris lack the means to shape insurgent groups," suggested Thomas Pierret of Edinburgh University.
"They have a lot of money but very poor intelligence and human resources and organisational skills. They are very dependent on the western military. They are too used to having relationships with clients and using personal networks.
"That's why they've been forced to turn to Syrian groups which already have military credibility. They are becoming less selective and more realistic and putting aside their reservations about who they support. But I doubt they are able to unify the whole thing. The Saudis say 'you should unite and we will give you money.' But some will end up getting more money than others and the coalition will break apart."
Funding Terrorist By saudia-Arabia-iran needs world Attention.
Reviewed by
Tariq Luqman
on
7:53 AM
Rating: